water resilience requires innovation and technology

Water Resilience Requires Innovation and Technology
In the wake of a natural disaster communities are left vulnerable or severely damaged, with the challenge of restoring public services. Natural disasters such as hurricanes, floods and storm surges pose a great risk to communities and access to clean water, shelter, food and safety. When a community is impacted by a crises of this magnitude response is crucial and must be executed in a rapid and efficient manner. A key strategy in supporting response is establishing water resilience in communities. Fostering water resilience plays a critical role in preparing communities for the potential of a natural disaster and maintaining the integrity of pre-existing infrastructures. This allows communities to recover rapidly by maintaining public services and protecting the natural environment.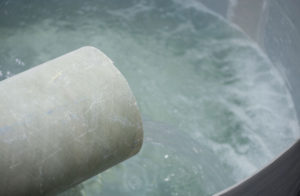 In order for resilience to be established, it requires a union between innovation and technology. Paramount to achieving this is the development of innovative technologies that facilitate sustainable water management. These technologies play a fundamental role in increasing efficiency, and reduction of waste by managing clean water supply and access. However, emerging technologies must be validated in order to establish resilience.
Currently, Ontario is home to 900 companies who focus their operations on water. Good Harbour Laboratories (GHL) facilitates the development and integration of resilience by providing unbiased and independent testing services to assist in validating technologies and products. GHL tests a range of innovative technologies and products from flow meters and treatment devices such as stormwater filters. This testing validates whether technologies and products can be certified and meet compliance regulations in order to be integrated into infrastructures that are effected during crises. Validating technologies and products is a crucial step in the process of creating resilience. As companies look to assert environmental awareness, the development of innovative products and technologies that are fundamental to the security and sustainability of communities becomes imperative. Ultimately, this creates an opportunity for companies to leverage their products and technology in an open market that will produce sales.